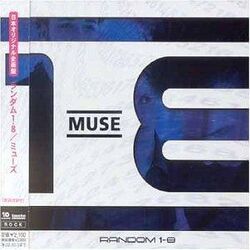 Random 1–8
is the third
Extended Play (EP)
by English alternative rock band
Muse
. The EP was released in Japan only by Avex Trax on 4 October 2000, to promote the band's tour there. The EP consists of six B-sides recorded during the Showbiz era, and two live tracks. There are also three remixes of "Sunburn" after the last track.
A bonus disc was included with some versions of the Showbiz album, which has the same content as Random 1-8, without the Sunburn remixes.
Tracklist
Edit
1. "Host" - 4:16
2. "Coma" - 3:37
3. "Pink Ego Box" - 3:31
4. "Forced In" - 5:08
5. "Agitated" - 2:23
6. "Yes Please" - 3:08
7. "Fillip" (live) - 3:46
8. "Do We Need This?" (live) - 4:14
9. "Sunburn" (Timo Maas Sunstroke Mix; hidden track) - 6:45
10. "Sunburn" (Timo Maas Breakz Again Mix; hidden track) - 5:28
11. "Sunburn" (Steven McCreery Mix; hidden track) - 7:37

Ad blocker interference detected!
Wikia is a free-to-use site that makes money from advertising. We have a modified experience for viewers using ad blockers

Wikia is not accessible if you've made further modifications. Remove the custom ad blocker rule(s) and the page will load as expected.