Sunburn Lyrics
Come waste your millions here
Secretly she sneers
Another corporate show
A guilty conscience grows

And I'll feel
A guilty conscience grow
And I'll feel
A guilty conscience grow

She burns like the sun
And I can't look away
And she'll burn our horizons
Make no mistakes

Come let the truth be shared
No one ever dared
To break these endless lies
Secretly she cries

She burns like the sun
And I can't look away
And she'll burn our horizons
Make no mistakes

And I'll hide from the world
Behind a broken frame
And I'll run forever
I can't face the shame

And I'll hide from the world
Behind a broken frame
And I'll run forever
I can't face the shame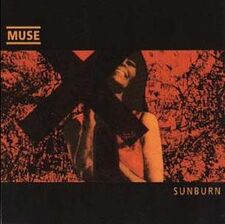 Sunburn is a song from Muse's 1999 debut album Showbiz. It was released as the fourth single from the album on double-CD and 7" vinyl on February 21st, 2000. CD1 was released with the B-sides Ashamed and a live version of Sunburn; CD2 with the Yes Please and a live version of Uno; and the 7" with a live acoustic version of Sunburn.
Track listings
Edit
"Sunburn" – 3:54
"Ashamed" – 3:47
"Sunburn (live)" – 3:49
"Sunburn" – 3:54
"Yes Please" – 3:06
"Uno (live)" – 3:49
"Sunburn" – 3:54
"Sunburn (live acoustic)" – 4:15
Personnel
Edit
External links
Edit
Ad blocker interference detected!
Wikia is a free-to-use site that makes money from advertising. We have a modified experience for viewers using ad blockers

Wikia is not accessible if you've made further modifications. Remove the custom ad blocker rule(s) and the page will load as expected.